Article content
A woman was taken to hospital Saturday morning after she caught fire outside an Edmonton convenience store in what one witness said may have been an attempt to warm herself.
Fire crews were called to the store and gas station at 109 Street and 61 Avenue after reports a woman's clothes had caught fire. Vishnu Chawla, who was working at the store, said he believes the woman may have set a fire outside to warm up.
Article content
"I think she accidentally put herself on fire, and she tried to run," he said. "She freaked out. There were big flames on her legs."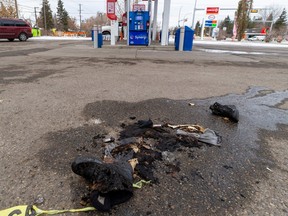 Chawla did not see how the woman caught fire but said she may have had a lighter or was burning things to keep warm. He and a customer responded by dousing the woman with water and calling 911.
Edmonton Fire Rescue Services spokesperson Rachel Humenny could not confirm how the fire started, but said fire crews responded and that the woman was taken to hospital by EMS.
EMS confirmed the woman was transported in stable condition.
Saturday's forecast called for a high of zero with a wind chill of -7 C. Environment Canada was calling for wind gusts up to 40 km/h.
Share this article in your social network

link