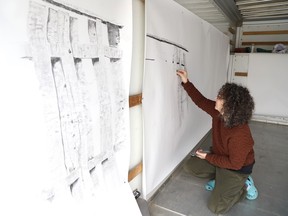 Article content
Sudbury Music Festival hosts AGM
Article content
The Sudbury Music Festival (SMF) is excited to announce its inaugural annual general meeting, to be held on June 20 at 6 p.m. at Sudbury Secondary School. 
This event serves as an opportunity for the SMF to reflect on the accomplishments achieved since its transition from the Kiwanis Music Festival of Sudbury.
The primary objectives of the AGM are to provide an overview of the work accomplished over the past two years; present the financial statements for the current fiscal year; and unveil the plans for the upcoming year. This includes the highly anticipated 75th anniversary fundraising concert on Oct. 21 and the tentative schedule for the 2024 festival, which begins on April 4, 2024.
Sudbury Music Festival's mission is to provide young musicians an opportunity for artistic expression and personal growth in an encouraging and supportive environment. To further strengthen and expand its membership, Sudbury Music Festival enthusiastically invites individuals and organizations to become part of this organization. The AGM will serve as an ideal platform for prospective members to gain insight into SMF's accomplishments, future endeavours and the benefits of joining the organization.
Article content
Membership fees for Sudbury Music Festival are $20 for individuals and $30 for organizations. These fees play a vital role in supporting the festival and enabling SMF to continue its dedication to fostering a vibrant musical community by nurturing emerging talents, promoting music and creating unforgettable performance experiences for the community. To join, please go to tinyurl.com/2p8584et. 
"We are thrilled to invite the community to Sudbury Music Festival's inaugural AGM," said Ralph McIntosh, festival chair. "This event not only marks a significant milestone for our organization, but also provides a platform to showcase the tremendous progress we have made. We warmly welcome new members who share our passion for music and look forward to sharing our exciting plans for the future."
Article content
For more information, please contact Louis Simão, festival co-ordinator, at 416-532-8209 or [email protected]. For more information, please go to sudburymusicfestival.ca.
Jazz Sudbury hosts emerging artist showcase 
Jazz Sudbury is pleased to announce its upcoming emerging artist showcase, an exciting evening of music that will showcase the extraordinary talents of three remarkable musical groups. This one-night-only event promises to be a wonderful experience for music enthusiasts, offering a diverse range of genres and special performances that will captivate audiences of all ages.
The showcase takes place at 7 p.m. on June 22 at Steve's Encore Lounge, inside the Sudbury Theatre Centre. 
Article content
This career-building event will provide a platform for rising musical groups, offering them the opportunity to shine in front of a passionate audience and industry professionals.
The evening begins with an energetic and soul-stirring performance by the Madeleine Ertel Duo. Known for her honest and melodic approach to music-making, this trumpeter, composer and arranger is a recent graduate of the University of Toronto. Making waves in the music scene, Ertel was selected as a finalist for the Toronto Arts Foundation's emerging jazz artist award in 2022. 
The spotlight then shifts to drummer, producer and teacher, Michaël Filion, and his powerhouse ensemble. Originally from Montréal, his unique fusion of traditional jazz and latin music creates a sonic landscape that is mesmerizing and exhilarating. Currently pursuing post-graduate studies in jazz performance at the University of Toronto, Filion's compositions and virtuosic performances have garnered critical acclaim.
Article content
The evening closes with Jacob Valois and his group. Drawing inspiration from modern swing and funk, Valois presents a brilliant musical experience that transcends boundaries and captivates the senses. Originally from Wawa but now living in Sault Ste. Marie, Valois is known for his ability to create sonic landscapes that transport listeners and leave audiences mesmerized.
"We are thrilled to bring together these three extraordinary musical groups for the emerging artist showcase," said Allan Walsh, artistic director of Jazz Sudbury. "Our goal is to provide a platform for talented artists to showcase their abilities and connect with a wider audience. This showcase promises to be a celebration of diversity, creativity, and musical excellence, and we invite everyone to join us for an evening of unforgettable performances."
Article content
Tickets for the showcase will be available at the door.
Up Here presenting guided mural tours all summer
Grab your squad, slap on your best walking shoes and prepare to be swept off your feet by Sudbury's new guided mural tours.
Up Here festival is thrilled to announce they will be hosting guided tours once a month until October.
Up Here's guided mural tours are the crème de la crème when it comes to discovering Sudbury's impressive urban art gallery. You will uncover the stories and secrets behind more than 30 monumental works of art, while delving into back alleys to reveal hidden treasures crafted by brilliant artists from around the world. 
The tours begin June 24 at noon (all tours start at 12 p.m.). Subsequent dates include July 29; Aug. 19 during Up Here 9 (a second tour takes place at 3 p.m.); Aug. 20; Sept. 16; and Oct. 14.   
Article content
Reserve your spot for one of these colourful two-hour walking tours. Tickets cost $15 per person. The best part? Kids aged 16 and under can join in on the fun completely free of charge. 
For further information and to book your spot, please visit uphere.com/tours.
Film screening highlights importance of seed-saving for food security
Two groups have come together in hopes that a screening of The Seeds of Vandana Shiva will persuade people to save more local seeds. Better Beginnings Better Futures and Seedy Sudbury are teaming up to host a film screening on June 26 at the Sudbury Indie Cinema, 162 Mackenzie St.
"We had an amazing turnout for Seedy Sunday this past February, so we know there's huge interest in seeds and seed-saving," said Rachelle Rocha, one of Seedy Sudbury's organizers. "It's all part of a long-term project to help Sudburians grow and access more local food, inexpensively. The ideal state is that we'll build a system around growing and saving local, climate-adapted seeds. If done the right way, we'll end up with better quality seeds, tastier produce and plants that might need fewer external inputs, like watering."
Article content
Seed-saving activist Vandana Shiva is described by the filmmakers as "an icon of a global
movement advocating for more organic food and farming, biodiversity, seed sovereignty and
social justice."
Payment is by donation or pay-what-you-can, with a suggested donation of $14 (but all patrons are invited and may choose their own donation amount). All proceeds go towards Seedy Sunday, which takes place next March. To reserve tickets, go to seedsfilmnight.eventbrite.ca. 
Our Story at Gallery 6500 
Gallery 6500 is pleased to present Our Story in Black and White. 
This show features original monochrome images of Sudbury, created by five local photographers, including Debbie Anzinger McKay, Caio Higa, Chantal Larochelle, Debb Trahan-Pero and Rita Vanderhooft.  
Article content
Each photographer was asked to comment on social, political, economic and environmental issues in our community. The impact of COVID-19 became the focal point of many of their submissions. Their photographs capture the overwhelming sense of uncertainty, worry, fear and isolation this community experienced during the pandemic lockdown periods.
The exhibit is on until June 30. Regular viewing times are weekdays from 8:30 a.m. to 4:30 p.m. at 66 Brady St., inside the Steelworkers Hall. 
This exhibit is dedicated to the memory of Don Kuyek. 
Cinefest Sudbury relaunches CTV Best in Shorts competition
Cinefest Sudbury organizers, in partnership with CTV, are thrilled to relaunch the CTV Best in Shorts competition. 
Article content
The competition, which is now accepting submissions, provides Northern Ontario filmmakers with an opportunity to advance their careers, have their work screened to a festival audience, receive exposure within the film industry and have a chance to compete for a variety of cash prizes.
There are four categories, including open; post-secondary student; secondary school, which grants up to $1,250 to secondary school students who display notable talent in the areas of animation, documentary, experimental, music video and/or narrative filmmaking; and the Northern Flicks award, which will be presented to the film that best celebrates aspects of life in Northern Ontario.
All entries must be accompanied by the completed application form, which can be downloaded at cinefest.com. Finalists selected by the jury will be announced following the submission deadline on Aug. 18 at 4:30 p.m.
Article content
The 35th edition of Cinefest Sudbury takes place Sept. 16-24.
Get ready to Wiggle
The beloved children's entertainers, The Wiggles, are coming to Sudbury as part of their Ready, Steady, Wiggle Canadian tour.
The show is a high-energy celebration of music and dance, aimed to inspire and captivate young audiences. Featuring all the Wiggly classics, such as Fruit Salad, Hot Potato and Rock-a-bye Your Bear, as well as new songs from the group.
The tour stops by the Sudbury Community Arena on Oct. 6 for one show only at 6 p.m.
Tickets cost $56.25 and are available via greatersudbury.ca/tickets; by phone at 705-671-3000; or in person at 240 Elgin St. Children under 12 months old are free but must be issued a ticket.
link