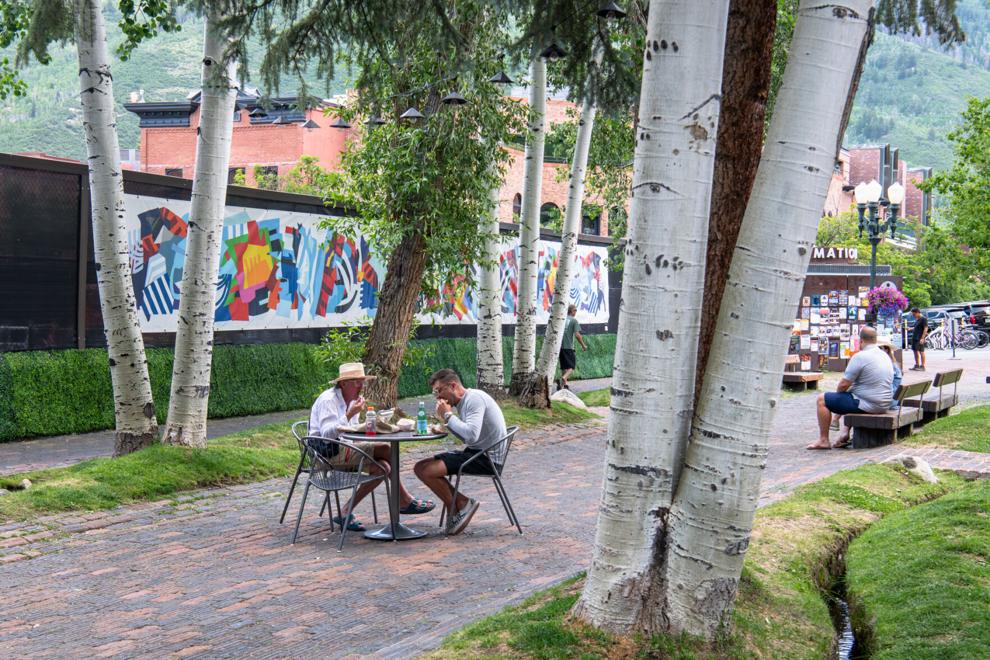 Aspenite Tim Sack has been on a mission for almost five years: to make art happen to people. And Sack's long-winded mission to cultivate public art in Aspen has finally come to fruition this summer. 
It's perhaps most evident with the two large-scale artistic banners now covering the construction fencing along the Cooper Avenue mall and Galena Street — transforming what was a prominent blight on one of downtown Aspen's busiest corners into a more vibrant and beautified area.
It's also taking shape outside of town's core, with artist Olivia Steele's "Public Display of Awareness" campaign featuring inspirational street signs, of which have been posted atop hiking trails and over bridges, as well as in the windows of a few businesses in Aspen.
Steele's dispersed signs and the mural-like banners at Paradise corner are the first two official public art activations carried out by Buckhorn Public Arts (BPA), a new art fund that Sack helped to launch with the purpose of supporting, commissioning and producing public art projects and art education programs in Aspen. 
"We've always been believers that it's about bringing art to the people and like making art happen and basically just presenting it where you don't have to seek it out," Sack said. "You know, because the value of public art is that, often, people don't know that they want to see art and they don't seek it out, so you have to put it in their right of way, and that's what we're doing."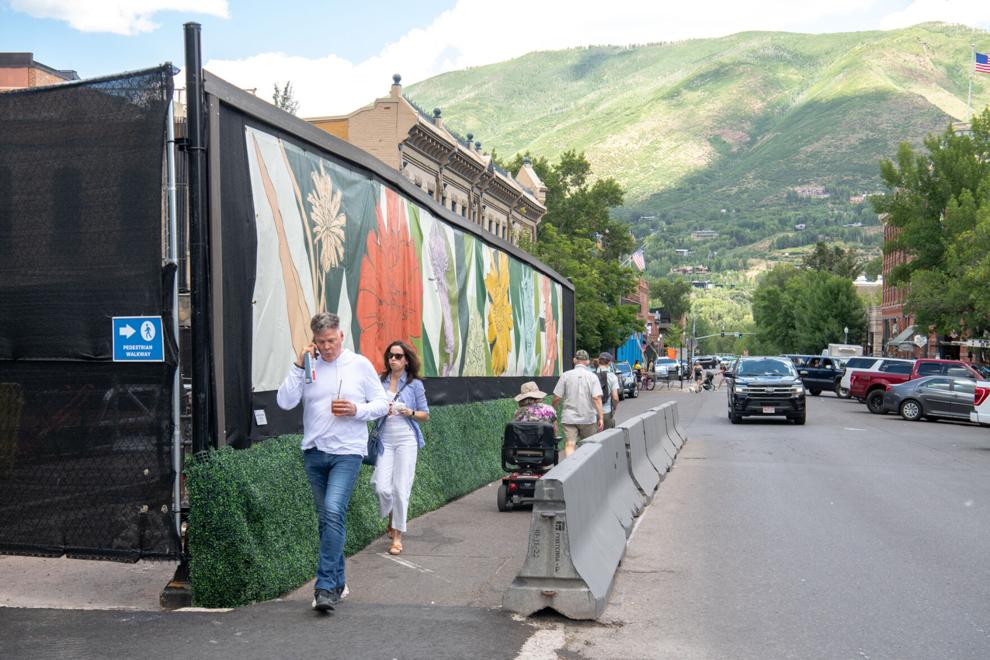 Sack and his two business partners, Austin Gavlak and Parker Roe, have been working to get BPA off the ground for a while now. They've finally been able to do so with funding from their Buckhorn Social Club concept — which is a series of accessible, open-air pop-up parties thrown somewhat seasonally at different spots in and around Aspen.
Started in 2021 by Sack, Gavlak and Roe, most of the Buckhorn experiences have been free and donation based, yet they were able to establish last summer's July party at Smuggler Mine as a fundraising endeavor for developing public art projects — such as the two that have taken shape this summer.  
The Buckhorn summer event this year was held at the beginning of the month at the Marolt Mining and Ranching Museum and also served as a fundraiser for future BPA initiatives. 
And with BPA's process underway for becoming a 501(c)(3) nonprofit organization, Sack explained how the proceeds from last July's event have already been put into action; the impact is now appreciable. 
"We were able to pay for the murals on the mall and then Olivia's time and project with the profits carried over from last July," Sack said. "Buckhorn Social Club is basically funding Buckhorn Public Arts to get off the ground, and now that we have the 501(c)(3) in submission, it's great to show that like, we're already doing this — we're putting public art in places, we're doing what we're saying we're gonna to do." 
Earlier this summer, BPA commissioned its first artist, Olivia Steele, to bring her "Public Display of Awareness" campaign to Aspen. Steele's bright street signs that have inspirational messaging can be seen around town and in more remote, natural settings, like the one at the top of the Ute Trail that reads, "You are exactly where you need to be." 
Sack said the signs will most likely remain up through the beginning of August and that while the city's been pretty great with them on bringing this project to life, he's had to take a couple down due to public domain disputes. He explained that the signs could not technically be posted on public property and said there have been a few instances throughout the project's duration where he's had to go back and forth with the city on public versus private clarification. 
The mural project at Paradise corner went up just in time for the busy Fourth of July week, and Sack said this is one that he hopes will remain intact for the presumed two years of the construction project there.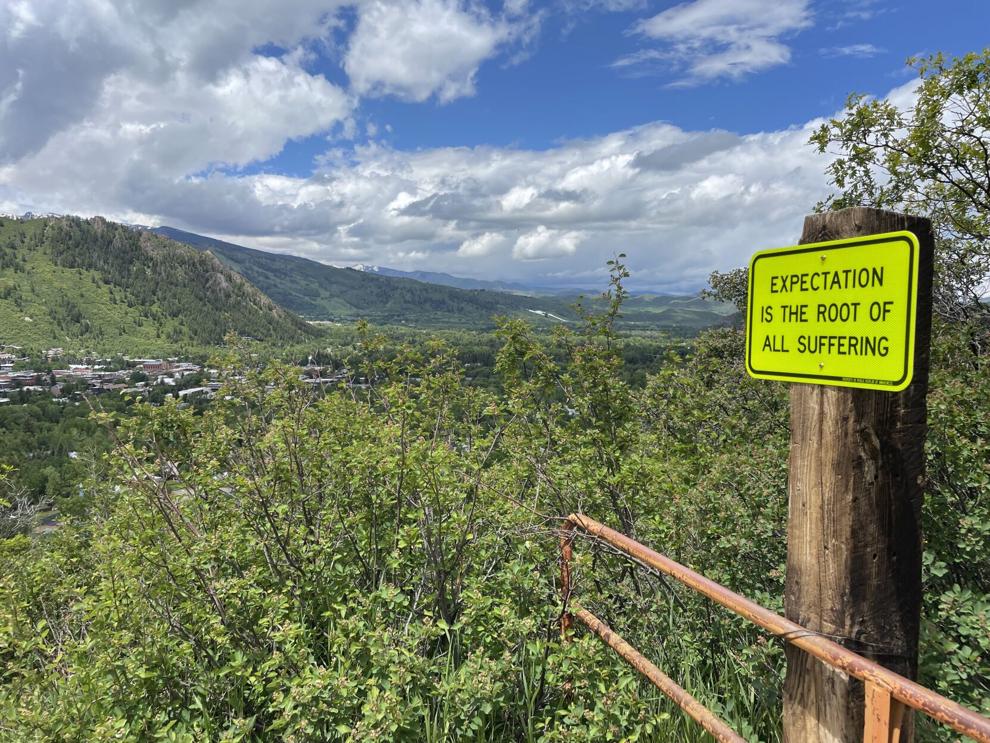 He brought on local artist Chris Erickson to design the piece that stretches the Cooper Avenue mall and Colorado-based artist Evan Hecox to create one for the Galena Street side. 
"Chris had the kind of work that we were looking for — bright, colorful, abstract, you know, something that's digestible for all," Sack said. "And same with Evan's mural, it's just bright, colorful and it brings vibrancy to the corner, and that was the whole point, like how do we make this corner in town vibrant instead of the blight?" 
Additionally, next to Erickson's mural on the mall side, the Aspen Historical Society has created a banner that features archive images of the mall and shares some of the history of downtown Aspen's evolution. Sack said BPA provided the funding support for the AHS' contributed banner, as well. 
"They had the creative control over what their banner looked like, but I said, 'if you guys will create a 24-foot banner that showcases the history of Aspen in the mall and downtown, then we'll pay to have it printed and we'll get it up,'" Sack said. "So I just wanted to have that, especially because in front of the Red Onion, it was just like a great way to show some history in addition to the art." 
Sack had to jump through a number of hoops to make this all happen. He emphasized that the construction site on which he was determined to place these murals has been a blatant "eyesore" in town for some time now. And people may not realize how much of an impact an eyesore like that can have. 
The construction project, led by a Mark Hunt development company, is for what's to become a RH gallery and also the redevelopment of the neighboring Red Onion building on the Cooper Avenue mall.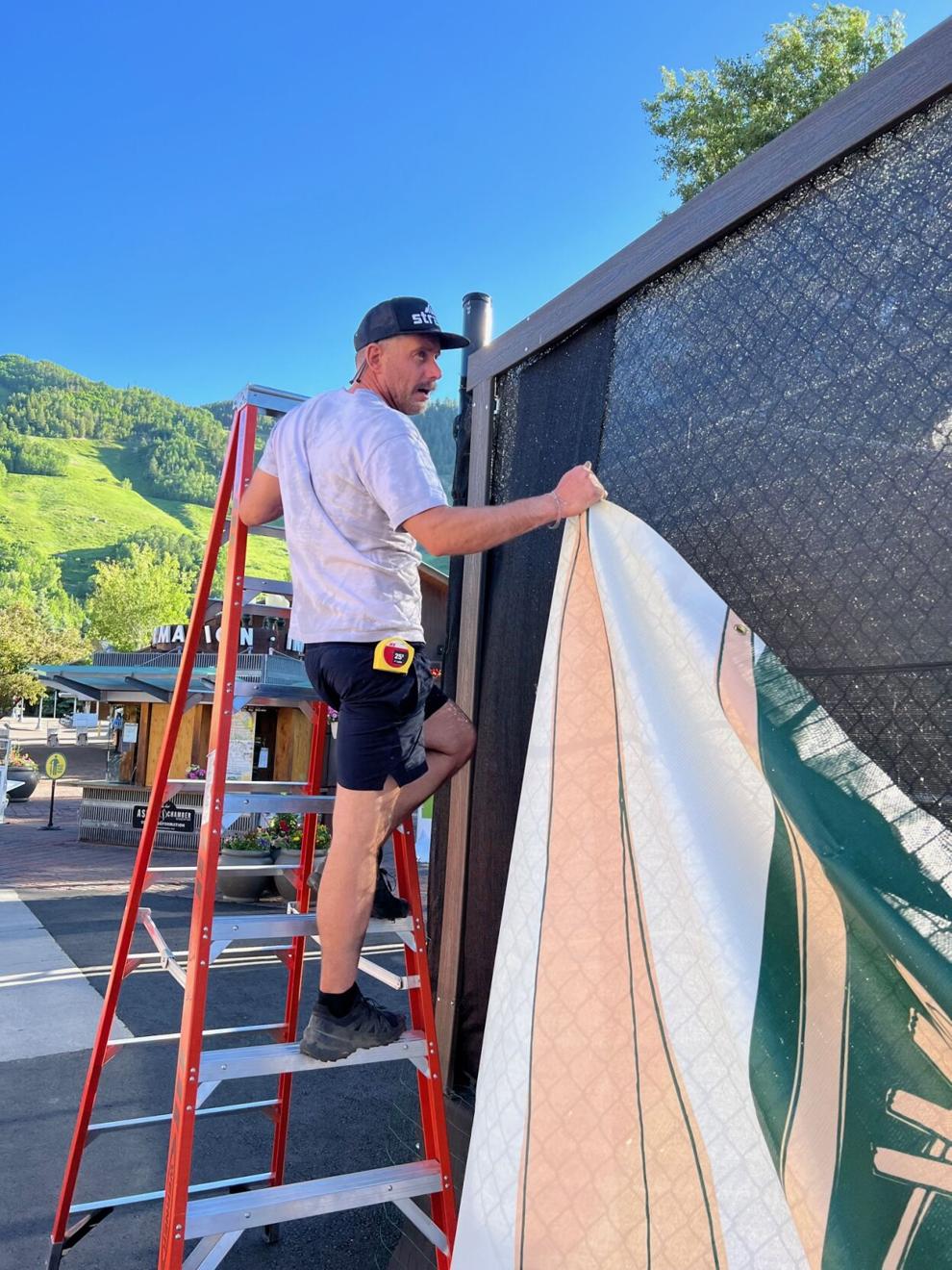 Sack said the Cooper Avenue mall has been "the deadest part of town" in recent years, especially in the winter. With a significant chunk of the block a construction site and a handful of the spaces now empty, he said that tourists and even locals haven't really delved down that street, which, Sack noted, has caused the businesses on Cooper that are still operating to suffer due to the lack of foot traffic.
Sack said he first saw the opportunity to activate art there two winters ago, when the construction area was then surrounded by "a big blue wall-like barrier," he recalled. He put in a proposal to the city and Hunt's development team to try and commission an artist to paint a mural on the blue barrier. 
Though his first attempt was a strike-out, Sack stayed in the game. In the years since, he has been back and forth in conversations with the city and the developers; he's worked with artists and figured out funding and, through it all, he has learned to a tee the ordinances and restrictions — the ins and outs — of these types of projects. 
Sack tried again last summer and worked with Hecox on mural ideas, but by that time, the big blue wall had been replaced with mesh fencing due to safety hazards, and so painting a mural wasn't really an option, Sack said. 
Hecox played with digitally designing a mural instead, and once they'd nailed down the material that would sustain — in terms of wind-load capacity, weather resilience and UV resistance, Sack said — they then found a printing company out of the Front Range that does large-scale billboard printing to bring the murals to life. 
Sack coordinated with Mayor Torre, Sarah Roy of the Red Brick and other city officials —  all of whom have been on board and supportive throughout the process, he said. Sack mentioned that the city donated all the new tables and chairs that have been added to the Cooper Avenue mall since the public art went up, as a way to help attract foot traffic to that block again and provide people with an area to sit and enjoy the art installation. 
Sack also collaborated with Jimmy Marcus from Hunt's development team this time around, and he commended Marcus and the team for their support on the project. Sack said they were able to get the developer to sign off on the costs of upgrading the construction fencing, adding value to it with attractions, like the greenery that's been installed along the fence baseline. 
"Ideally for us, this becomes something that's commonplace in that, there will always be construction in this town and how do we continue to activate it with murals, with art, with something, so that there's an expectation that when you're doing a development project, there is a public art component to your construction fencing," Sack said. "You know, if you're gonna take something offline in our community that creates a negative, here's the easiest way we can go to make a positive." 
Sack has remained in conversations with Marcus and the city about putting on community events and cultivating other forms of public art — like music, theater and dance — along the Cooper Avenue mall and the corner where the murals now bring vibrancy. He said he's currently working on plans for a block party in August and that he also wants to curate some sort of winter arts festival there later on. 
Sack expressed the significance of private and public sectors working together to initiate public art in Aspen, noting that, up until recently, Aspen was the only town in the valley without an established public arts program. 
Notably, the city of Aspen has started on its first-ever public art plan this summer, partnering with the Aspen Ideas Festival to carry out a pilot project that was done in June. Erickson was also the artist involved in the city's public art project, for which he completed the street mural on the pavement in front of the Wheeler Opera House. 
The pavement mural by Erickson is unrelated to the BPA crew's efforts at Paradise corner. Sack said the timing of this project and BPA's is a sheer coincidence, though he aspires for BPA and the city to collaborate in the future, as the floodgates are finally opening up for public art in Aspen. 
"As we do start to have a public art program in the town, we're thinking like, how can Buckhorn Public Arts be an arm of that, because it'll be a combination of public and private resources in order to activate that public art," Sack said. "Buckhorn Public Arts really just wants to be there to help steward this art into the community and raise money to help support it.
"Because, you know, the city is only gonna be able to do so much," he continued, "so if we have the ability to write the checks, then we have the ability to make this art happen, and make art happen is our tagline." 
For more information on the BPA initiative, visit buckhornpublicarts.org. 
link